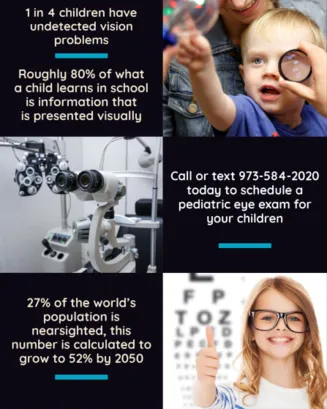 Most schools provide vision screening programs to identify children who have problems with eyesight. Although these provide a great opportunity to notice common vision problems, many vision issues go undetected in school exams.


A comprehensive eye exam from an optometrist is needed to accurately diagnose a range of common pediatric vision issues.


The American Optometric Association recommends children receive comprehensive eye exams on a regular schedule that begins in infancy:
-A comprehensive baseline eye exam between the ages of 6 months and 12 months
-At least one comprehensive eye exam between the ages of 3 and 5 to check for any conditions that could have long-term effects
-An annual, comprehensive eye exam starting before first grade

***We offer multiple Myopia Management treatment options, such as MiSight 1 day. These lenses are FDA-approved and proven to slow the progression of myopia (nearsightedness) in children.